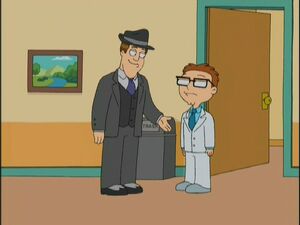 Kevin Broham is Steve's smarmy manager in "Star Trek". When his book Roger the Alien becomes a success, Kevin Broham meets Steve backstage at Cap'n Monty's Book Calvalcade. He convinces Steve to divorce his family and move into his own mansion, Steveadoo. Kevin introduces him to Spike Baltar, Steve's planned double for the movie version of Steve's book Roger the Alien. Upset with Steve for portraying him as 'Roger the Clumsy Alien' in his book, Roger tries to kill Steve but accidentally kills Spike Baltar in the mansion's pool filled with cherry jello instead. When Kevin sees the body, he bolts on Steve, leaving him to deal with the consequences.
Kevin is voiced by Matt McKenna.
Ad blocker interference detected!
Wikia is a free-to-use site that makes money from advertising. We have a modified experience for viewers using ad blockers

Wikia is not accessible if you've made further modifications. Remove the custom ad blocker rule(s) and the page will load as expected.