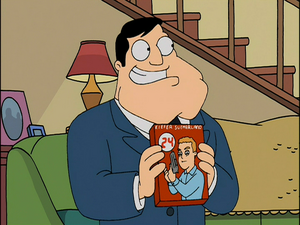 Kiefer William Frederick Dempsey George Rufus Sutherland (born 21 December 1966) is a Canadian actor, film producer, and film director. The son of Donald Sutherland, he is best known for his portrayal of Jack Bauer on the Fox series 24.
When the Smith family believe that have become contaminated and will die in 24 hours in "Threat Levels", Stan proposes they spend their last day watching the entire first season of 24 which features Kiefer Sutherland on the cover.
Stan refers to his father Donald as a "Kiefer-spawning bastard" in "The Best Christmas Story Never".
Roger notes that Kiefer Sutherland quit smoking in prison in "Cops and Roger".
Ad blocker interference detected!
Wikia is a free-to-use site that makes money from advertising. We have a modified experience for viewers using ad blockers

Wikia is not accessible if you've made further modifications. Remove the custom ad blocker rule(s) and the page will load as expected.