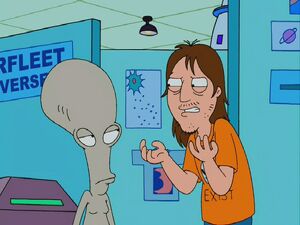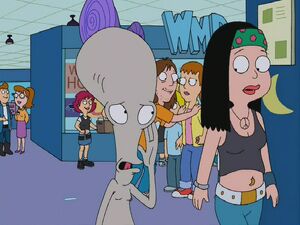 When Hayley tries to help Roger interact with people at a sci-fi convention in "All About Steve", Roger finds that a human he probed is at the convention. Kurt went insane after the abduction. Roger spends the next two hours in the bathroom hiding from Kurt, both because the probing is presented with the undertone of a one night stand and because Kurt wants to show Roger to his ex-wife Eileen to prove aliens exist, which would blow Roger's cover.
One of the kids Eileen hangs onto is Dennis, a recurring background character.
Kurt is seen at the nightclub Rubber in "Standard Deviation".
Kurt is voiced by Jon Ross.
Ad blocker interference detected!
Wikia is a free-to-use site that makes money from advertising. We have a modified experience for viewers using ad blockers

Wikia is not accessible if you've made further modifications. Remove the custom ad blocker rule(s) and the page will load as expected.