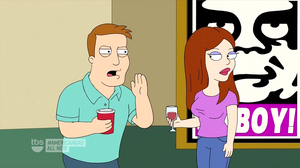 Kyle is a student that attends Josh's room party at Groff Community College in "Big Stan on Campus" when Stan is sent to shut it down for being too loud. When Stan accidentally breaks Josh's music player trying to keep it turned down, Josh points out off of the milestones it had been with him through, including "experimenting" with Kyle as Kyle tells him to be quiet.
Ad blocker interference detected!
Wikia is a free-to-use site that makes money from advertising. We have a modified experience for viewers using ad blockers

Wikia is not accessible if you've made further modifications. Remove the custom ad blocker rule(s) and the page will load as expected.