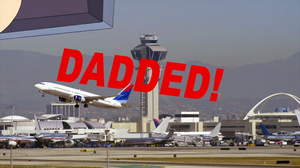 Los Angeles International Airport is the primary airport serving the Greater Los Angeles Area, the second-most populated metropolitan area in the United States. It is most often referred to by its IATA airport code LAX, with the letters pronounced individually. LAX is located in southwestern Los Angeles along the Pacific coast in the neighborhood of Westchester, 16 miles (26 km) from the downtown core.
Steve tried to get Snot not to leave Hayley in a bad place when he feels the need to break up with her in "The Missing Kink" and uses LAX as an example of a bad place. For suffering the insult, LAX is branded as being "Dadded!".
Ad blocker interference detected!
Wikia is a free-to-use site that makes money from advertising. We have a modified experience for viewers using ad blockers

Wikia is not accessible if you've made further modifications. Remove the custom ad blocker rule(s) and the page will load as expected.