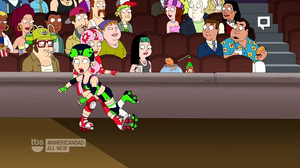 As with many previous episodes, crowd scenes feature many cameos by past characters. Notable in this episode are Phillipe Monday from "Stan Time", TJ from Boyz 12 and the Native American woman from "The Boring Identity".
"We Love Fun" by Bouncing Souls plays during the montage of skating matches & outings.
When Hayley finds Steve in the roller rink after they both are given something to think about, "I Can't Take It" by Tegan and Sara plays.
Ad blocker interference detected!
Wikia is a free-to-use site that makes money from advertising. We have a modified experience for viewers using ad blockers

Wikia is not accessible if you've made further modifications. Remove the custom ad blocker rule(s) and the page will load as expected.