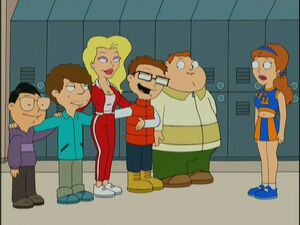 Lacey is a cheerleader at Pearl Bailey High School. When she asks Steve why he no longer rummages through her garbage in "Of Ice and Men", he tells her that since he and his friends acquired Svetlana, their Russian mail order bride, her used Q-Tips have no appeal for him anymore.
Lacey is voiced by Barclay DeVeau.
Ad blocker interference detected!
Wikia is a free-to-use site that makes money from advertising. We have a modified experience for viewers using ad blockers

Wikia is not accessible if you've made further modifications. Remove the custom ad blocker rule(s) and the page will load as expected.