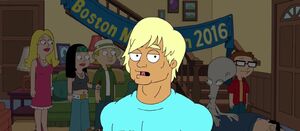 Laird Hamilton (born March 2, 1964) is an American big-wave surfer, co-inventor of tow-in surfing.
Laird provides his own voice in a public service announcement at the end of "Stan Smith as Keanu Reeves as Stanny Utah in Point Breakers", regarding the abuse of prescription medication in the episode, although he notes that he regards it as pretty funny.
Ad blocker interference detected!
Wikia is a free-to-use site that makes money from advertising. We have a modified experience for viewers using ad blockers

Wikia is not accessible if you've made further modifications. Remove the custom ad blocker rule(s) and the page will load as expected.