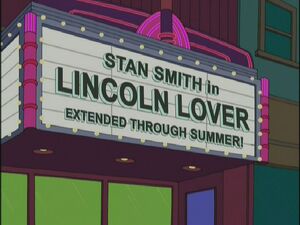 After watching a surrealist play about Abraham Lincoln in "Lincoln Lover" at the Langley Falls Community Theater, Stan decides to write and perform his own play about the first Republican president, to return to the original values of the Republican party. Stan's play, a one-man show, depicts a very close relationship between Lincoln and his most trusted guard. The play becomes extremely successful as many homosexual men come to watch, though Stan apparently does not notice the gay overtones of his play. The Log Cabin Republicans invite him to speak at the convention; however, it is not until a LCR party that Stan realizes that the members are gay.
Ad blocker interference detected!
Wikia is a free-to-use site that makes money from advertising. We have a modified experience for viewers using ad blockers

Wikia is not accessible if you've made further modifications. Remove the custom ad blocker rule(s) and the page will load as expected.