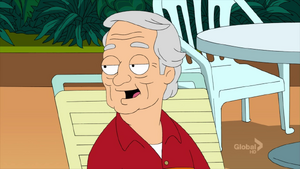 Larry Herman is an elderly charmer who picks up on Roger in his guise of an elderly widow at a tropical resort in "Killer Vacation". But Roger finds he's more than willing to trade up when he gets a chance to be with a younger woman and dumps Roger. Roger decides to get even by exposing Larry's colostomy bag contents to his new girlfriend who leaves him in turn.
He is voiced by James Karen.
Ad blocker interference detected!
Wikia is a free-to-use site that makes money from advertising. We have a modified experience for viewers using ad blockers

Wikia is not accessible if you've made further modifications. Remove the custom ad blocker rule(s) and the page will load as expected.