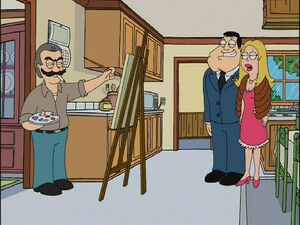 LeRoy Neiman is an American artist known for his brilliantly colored, semi-abstract paintings and screen prints of athletes and sporting events.
When Stan earns more money than Francine through bum fights in "Threat Levels", he hires LeRoy Neiman to paint their portrait. Although both Stan and Francine are surprised because they believed LeRoy was black.
Ad blocker interference detected!
Wikia is a free-to-use site that makes money from advertising. We have a modified experience for viewers using ad blockers

Wikia is not accessible if you've made further modifications. Remove the custom ad blocker rule(s) and the page will load as expected.