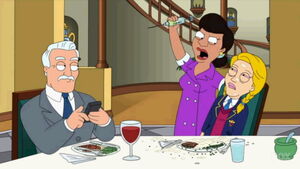 Lessie is a maid/nurse who works for Senator Buckingham. In "School Lies", just as Stan is about to ask for a top task force position, he learns that Roger sold the Senator's daughter Cookie to pay for a drug binge they went on together. Stan manages to locate and save the Senator's daughter, but over dinner, Cookie passes out in her food. Just as Stan is about to ask for a task force position, Francine calls to report Steve had been arrested for armed robbery. When the Senator points out that career is more important to him than family and ignores his daughter's plight, aside from having Lessie shoot adrenaline into her heart, Stan decides to use his favor to ask the Senator to have his son bailed out.
Lessie is voiced by Jenifer Lewis.
Ad blocker interference detected!
Wikia is a free-to-use site that makes money from advertising. We have a modified experience for viewers using ad blockers

Wikia is not accessible if you've made further modifications. Remove the custom ad blocker rule(s) and the page will load as expected.