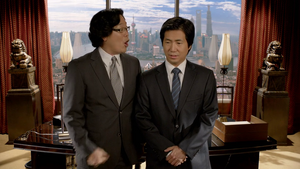 Li Quan is a Chinese billionaire that buys American Dad! from Fung Wah, another Chinese billionaire in "American Fung".
Assuring the viewers that the show will be a "thousand percent better," the Smith family is turned into Chinese peasants working in a rice paddy, where they discover "Mickey Mouse" who appears to lead them in song and dance to finish the show.
Li Quan is performed by Greg Chun.
Ad blocker interference detected!
Wikia is a free-to-use site that makes money from advertising. We have a modified experience for viewers using ad blockers

Wikia is not accessible if you've made further modifications. Remove the custom ad blocker rule(s) and the page will load as expected.