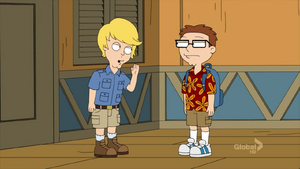 Liam is a character that appears in "Killer Vacation" whom Steve meets him at the children's nursery at the resort where the Smiths are on vacation. Liam tells Steve about a nude beach that is on the other side of the island; and the two journey across the island to get there. During the journey, Steve does absurd and harmful things that Liam tells him to do such as riding a wild horse, trying to fly across a gorge by using fern leaves as wings, and using bees to sterilize Steve's open wound because of his British accent, usually resulting in bodily harm for Steve. When they get to the beach, Steve is disgusted to find Stan, Francine, Hayley and Jeff are there as well.
Liam is voiced by Rupert Grint.
Ad blocker interference detected!
Wikia is a free-to-use site that makes money from advertising. We have a modified experience for viewers using ad blockers

Wikia is not accessible if you've made further modifications. Remove the custom ad blocker rule(s) and the page will load as expected.