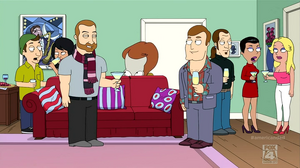 Isaac Liev Schreiber (born October 4, 1967) is an American actor, producer, director, and screenwriter. He became known during the late 1990s and early 2000s, for appeared in several independent films, and later mainstream Hollywood films, including the Scream trilogy of horror films, Phantoms, The Sum of All Fears, X-Men Origins: Wolverine, Salt, Taking Woodstock and Goon. He is also a respected stage actor, having won a Tony award for Glengarry Glen Ross.
Liev appears in "A Boy Named Michael" at Greg and Terry's party to celebrate the arrival of their newly adopted Russian son Michael. Roger is highly impressed with his story of his environmentally-friendly car, as well as his wearing of a scarf indoors as part of who he is.
Ad blocker interference detected!
Wikia is a free-to-use site that makes money from advertising. We have a modified experience for viewers using ad blockers

Wikia is not accessible if you've made further modifications. Remove the custom ad blocker rule(s) and the page will load as expected.