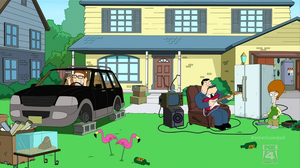 "Life Is a Highway" is a song written by Tom Cochrane, from his 1991 album Mad Mad World. The song was number one hit in his native Canada and also peaked at number six on the Billboard charts in the United States in 1992. The song is also known for the cover by Rascal Flatts for the Cars soundtrack.
In order to live the low-class life that Roger accuses him of having in "A Boy Named Michael", Stan places his furniture and junk in his front lawn and takes up country music to annoy Roger, playing guitar and harmonica as Steve joins in singing "Life Is a Highway".
Lyrics
Steve: Yeah!
Life is a highway
I'm want to ride it all night long
Oh!