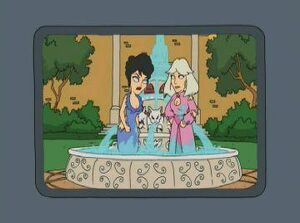 Linda Evans is an American actress known primarily for her roles on television. She rose to fame as Barbara Stanwyck's daughter, Audra Barkley, on the 1960s Western, The Big Valley (1965–1969). Evans' most prominent role was as Krystle Carrington on the 1980s ABC prime-time television soap opera Dynasty, a role she played from 1981-1989.
Linda is shown in a cat fight with Joan Collins in an episode of Dynasty that Roger watches in "Roger Codger".
Ad blocker interference detected!
Wikia is a free-to-use site that makes money from advertising. We have a modified experience for viewers using ad blockers

Wikia is not accessible if you've made further modifications. Remove the custom ad blocker rule(s) and the page will load as expected.