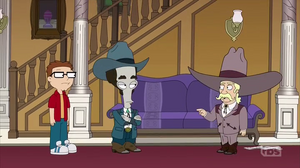 Little John Tanner is one of the least influential politicians in the Nevada legislature.
When Roger, as politician Burt Jarvis, allows Big John Tanner to tear up his bill for clean water in "Kiss Kiss, Cam Cam", he explains to Steve that he doesn't have the political clout to stand up to him. He contrasts Big John's influence against that of Little John Tanner, who complains that he is representing the good people of Winnemucca until Roger kicks him out of sight.
Ad blocker interference detected!
Wikia is a free-to-use site that makes money from advertising. We have a modified experience for viewers using ad blockers

Wikia is not accessible if you've made further modifications. Remove the custom ad blocker rule(s) and the page will load as expected.