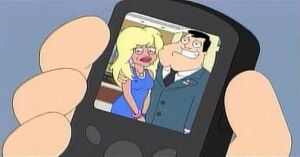 Loni Kaye Anderson (born August 5, 1945) is an American actress who played the role of Jennifer Marlowe on the television sitcom WKRP in Cincinnati.
When Stan starts to show Hayley her poor choice in pizza in 100 A.D., he brings out his cell phone to find a picture he took of himself with Loni Anderson at the airport.
Ad blocker interference detected!
Wikia is a free-to-use site that makes money from advertising. We have a modified experience for viewers using ad blockers

Wikia is not accessible if you've made further modifications. Remove the custom ad blocker rule(s) and the page will load as expected.