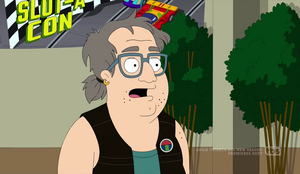 Lonnie Bolmenferg is Stan's rival slot car racer in "Whole Slotta Love".
He tries to get inside of Stan's head at a tournament in Altoona, but finds that Stan is already distracted by issues with Francine. He constantly flirts with Mel, Stan's racing partner who turns him down flat, despite an offer to allow her to take his virginity. Stan wins the tournament thanks to cheating that he did with Mel on his car, but does get to insult Lonnie over his name.
Lonnie is voiced by Eric Edelstein.
Ad blocker interference detected!
Wikia is a free-to-use site that makes money from advertising. We have a modified experience for viewers using ad blockers

Wikia is not accessible if you've made further modifications. Remove the custom ad blocker rule(s) and the page will load as expected.