Executive Producer/writer Mike Barker once openly stated his concern with showing Roger's home planet, fearing that once they went to his home planet, people wouldn't watch the show anymore. [1]
This is promoted as the 150th episode, but in reality, it's the 151st episode to be broadcast. FOX's counting method indicates it is the 150th episode in production order.
This is the first episode to show Roger's mothership and other members of Roger's species, as well as other aliens.
The score for the episode is done by Wax Fang, instead of Walter Murphy or Joel McNeely. Songs include "At Sea" as Jeff is lead through the space station, "Majestic" which is sung to call the creature of the same name, and "The Astronaut Part 2" which features as the Majestic reveals evidence of true love.
Klaus does not appear. Stan, Francine, and Steve only appear in the recap of events from "Naked to the Limit, One More Time". Stan has lines in the recap scene at the beginning, but Francine and Steve do not. Other than these recapped scenes, this is the first episode in which Stan and Francine do not appear in any new footage, and the second one for Steve after "Stan's Night Out". This makes Roger the only character to be present in every episode thus far. Despite this, all the main voice cast's names appear in the end credits.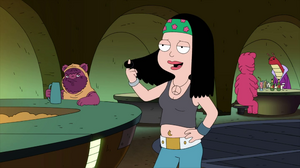 When the shape-shifter changes into Hayley, an Ewok-like creature can be seen drinking at the bar.
When Sinbad comes back as an apparition after being killed, he is in a costume that resembles a Jedi knight.
When one of the guards is punched by the shape-shifter, he lets out the Wilhelm Scream as he flies off the platform.
During the battle scene with Sinbad, the aliens' blood is red. Roger's blood has been previously shown as purple in "One Little Word" and in "There Will Be Bad Blood".
Before coming to Earth, Roger was in a relationship with Emperor Zing.
The blue alien with the antennae resembles an Andorian from the Star Trek series.
Ad blocker interference detected!
Wikia is a free-to-use site that makes money from advertising. We have a modified experience for viewers using ad blockers

Wikia is not accessible if you've made further modifications. Remove the custom ad blocker rule(s) and the page will load as expected.