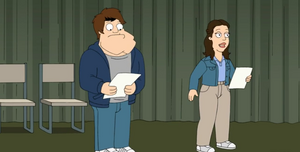 Lucy Lawless, MNZM (born Lucille Frances Ryan; 29 March 1968) is a New Zealander actress and singer. She is best known for playing the title character of Xena: Warrior Princess which ran from 1995 to 2001. She is also known for appearing in the re-imagined Battlestar Galactica and in Spartacus: Blood and Sand and Spartacus: Gods of the Arena.
Lucy provided the voice of Stacy in "A Piñata Named Desire".
Ad blocker interference detected!
Wikia is a free-to-use site that makes money from advertising. We have a modified experience for viewers using ad blockers

Wikia is not accessible if you've made further modifications. Remove the custom ad blocker rule(s) and the page will load as expected.