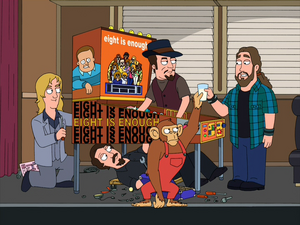 Magheeta is a chimpanzee that belongs to the band My Morning Jacket. In "My Morning Straitjacket", after Roger predicts the band would be carrying on with wild women, they find them working on a pinball machine. After Roger predicts they'll be doing drugs off of the pinball machine glass once it's fixed, Magheeta brings the band a glass of milk.
Ad blocker interference detected!
Wikia is a free-to-use site that makes money from advertising. We have a modified experience for viewers using ad blockers

Wikia is not accessible if you've made further modifications. Remove the custom ad blocker rule(s) and the page will load as expected.