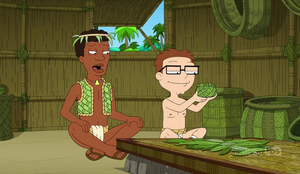 Magunga is Steve islander supervisor when he escape the wrath of Langley Falls in "Bazooka Steve".
When Steve convinces the star quarterback of The Langley Falls Bazooka Sharks to quit the team in the middle of a championship game, the entire town pursues him until he ships himself off to a tropical island. There, he is accepted but finds that everyone must work, and is employed weaving baskets. Magunga critiques his work, a tiny basket which takes him three months to complete. When he tries to ask for time off he is rejected.
When a rumbling announces that a volcano is erupting, they hurry outside to watch. Although Steve expects the worst, Magunga explains that it starts a competition between villages to roll boulders into the volcano.
Ad blocker interference detected!
Wikia is a free-to-use site that makes money from advertising. We have a modified experience for viewers using ad blockers

Wikia is not accessible if you've made further modifications. Remove the custom ad blocker rule(s) and the page will load as expected.