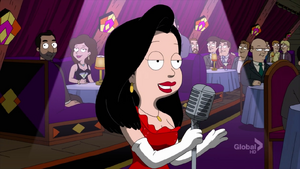 "Makin' Whoopee!" is a jazz/blues song, first popularized by Eddie Cantor in the 1928 musical Whoopee!. Walter Donaldson wrote the music and Gus Kahn the lyrics for the song as well as for the entire musical. Hayley Smith sings it in "Love, American Dad Style". It is also the first track on Rachael MacFarlane's debut big band album, "Hayley Sings".
Ad blocker interference detected!
Wikia is a free-to-use site that makes money from advertising. We have a modified experience for viewers using ad blockers

Wikia is not accessible if you've made further modifications. Remove the custom ad blocker rule(s) and the page will load as expected.