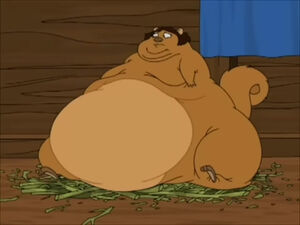 Mama Squirrel is a parody of Bonnie in the movie What's Eating Gilbert Grape in "Irregarding Steve". Her son Gilbert has to watch after her mentally challenged son Arnie. When she dies, their tree is set on fire by lighting, incinerating her body. Arnie and Gilbert hit the road on the back of a bus.
Mama Squirrel is voiced by Rusty Schwimmer.
Ad blocker interference detected!
Wikia is a free-to-use site that makes money from advertising. We have a modified experience for viewers using ad blockers

Wikia is not accessible if you've made further modifications. Remove the custom ad blocker rule(s) and the page will load as expected.