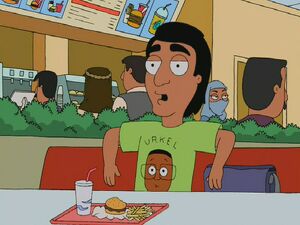 Mamood is the son of one of the wives Francine meets in "Stan of Arabia: Part 1". Desperate to get out of the house, Hayley goes out with him on a date to Burger King. He turns out to be a complete nerd, and Hayley dumps him.
He is voiced by Jeff Bennett.
Ad blocker interference detected!
Wikia is a free-to-use site that makes money from advertising. We have a modified experience for viewers using ad blockers

Wikia is not accessible if you've made further modifications. Remove the custom ad blocker rule(s) and the page will load as expected.