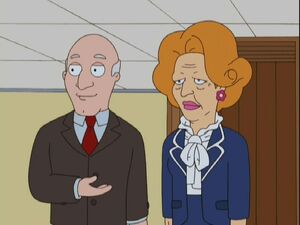 Baroness Margaret Hilda Thatcher (13 October 1925 – 8 April 2013) served as Prime Minister of the United Kingdom from 1979 to 1990 and Leader of the Conservative Party from 1975 to 1990. She is the only woman to have held either post.
When CIA Deputy Directory Avery Bullock announces a totally unrestricted inspection in "I Can't Stan You", he orders the agents to take home and hide all illegal items in CIA possession. The director brings out a life-size Margaret Thatcher robot which he awards to Sanders. Later, Sanders and Jackson show Stan they are taking the robot to a beach house the CIA confiscated giving Stan the idea to get rid of all of his neighbors.
Margaret Thatcher is voiced by Miriam Margolyes.
Ad blocker interference detected!
Wikia is a free-to-use site that makes money from advertising. We have a modified experience for viewers using ad blockers

Wikia is not accessible if you've made further modifications. Remove the custom ad blocker rule(s) and the page will load as expected.