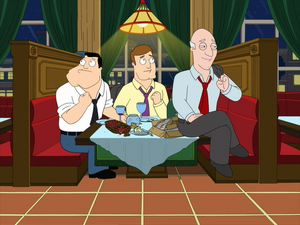 While eating out at Trattoria in "Daddy Queerest", Stan, Greg Corbin and Avery Bullock start singing the song "Maria" from West Side Story.
Lyrics
Say it loud and there's music playing.
Say it soft and it's almost like praying.
Maria,
I'll never stop saying Maria!
Ad blocker interference detected!
Wikia is a free-to-use site that makes money from advertising. We have a modified experience for viewers using ad blockers

Wikia is not accessible if you've made further modifications. Remove the custom ad blocker rule(s) and the page will load as expected.