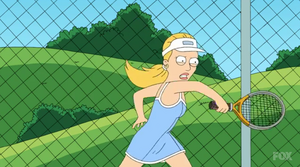 Maria Yuryevna Sharapova (born April 19, 1987) is a former World No. 1 Russian professional tennis player. Sharapova has won 22 WTA singles titles, 3 WTA doubles titles and 3 Grand Slam singles titles, including 2004 Wimbledon, 2006 US Open and 2008 Australian Open. She was also runner-up at the 2007 Australian Open. She has also won the year-ending Sony Ericsson Championships in 2004. The Women's Tennis Association has ranked her World No. 1 in singles on 4 separate occasions. She regained this ranking for the fourth time on May 19, 2008.
Maria appears in Steve's dream in "Best Little Horror House in Langley Falls". Although she doesn't have any lines, her famous tennis grunts were done by Rachael MacFarlane.
Ad blocker interference detected!
Wikia is a free-to-use site that makes money from advertising. We have a modified experience for viewers using ad blockers

Wikia is not accessible if you've made further modifications. Remove the custom ad blocker rule(s) and the page will load as expected.