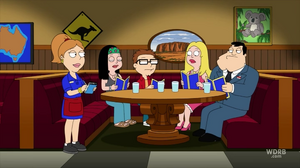 Mariah Carey (born March 27th 1970) is a singer, songwriter, actress and recording producer. She has won five Grammy Awards, 17 World Music awards, 11 American Music Awards, and 31 Billboard Music Awards.
Mariah provides the voice of Gina's replacement waitress at Walkabout Steakhouse in "Max Jets". She also has a voice credit in "The Missing Kink" and voices Laura in "Kung Pao Turkey".
Ad blocker interference detected!
Wikia is a free-to-use site that makes money from advertising. We have a modified experience for viewers using ad blockers

Wikia is not accessible if you've made further modifications. Remove the custom ad blocker rule(s) and the page will load as expected.