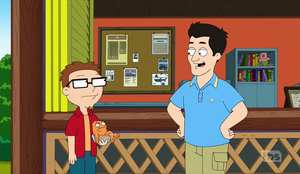 Mark is the supervisor of the Kidz Club at the Atlantis Resort in "Bahama Mama".
He tries to get Steve to join in the activities but is spurned by both Steve and Klaus who feel that they are becoming too old for such things as he expects to become an uncle with Jeff and Hayley's efforts to conceive. Despite this, Mark still promises to be there for them. When they end up on the wrong side of a drug gang, Steve and Klaus are rescued from death by Mark and the club as promised.
Mark is voiced by Michael Showalter.
Ad blocker interference detected!
Wikia is a free-to-use site that makes money from advertising. We have a modified experience for viewers using ad blockers

Wikia is not accessible if you've made further modifications. Remove the custom ad blocker rule(s) and the page will load as expected.