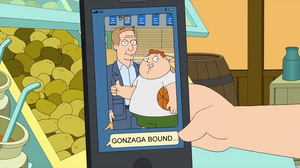 Mark Norman Few (born December 27, 1962) has served as the head basketball coach at Gonzaga University since 1999, a period that has seen the school become regular participants in the NCAA Tournament.
Steve, concerned about falling behind in choosing a college in "The Life and Times of Stan Smith", shows Klaus a picture of Barry with Coach Few and notes he has already committed to Gonzaga. Klaus notes that Coach Few will get the most out of Barry.
Ad blocker interference detected!
Wikia is a free-to-use site that makes money from advertising. We have a modified experience for viewers using ad blockers

Wikia is not accessible if you've made further modifications. Remove the custom ad blocker rule(s) and the page will load as expected.