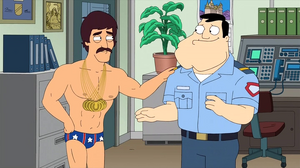 Mark Andrew Spitz (born February 10, 1950) is an American former swimmer, nine-time Olympic champion, and former world record holder, winning seven gold medals at the 1972 Summer Olympics in Munich.
Mark Spitz provides his own voice in "Big Stan on Campus" as the chancellor of Groff Community College where Stan gets a job as security. However, it is revealed that Stan is only having a fantasy after being knocked out in a riot escalated by his actions.
In his fantasy, he allows Stan to wear his mustache but when he sneezes, he temporarily awakes in a second fantasy.
Ad blocker interference detected!
Wikia is a free-to-use site that makes money from advertising. We have a modified experience for viewers using ad blockers

Wikia is not accessible if you've made further modifications. Remove the custom ad blocker rule(s) and the page will load as expected.