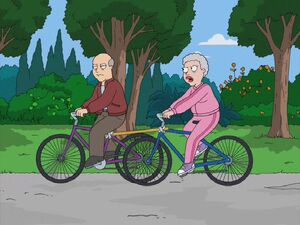 When Stan and Julie ride off on a tandem bike at George C. Scott Park in "Widowmaker", another older couple ride by on two bikes lashed together with a broomstick follow with the wife telling her husband "See, see that Marty? That's a real tandem bike. When are you going to make more money?"
She also rides Marty over directions to the snack bar at the Langley Falls Country Club in "In Country...Club".
Marty and his wife appear as previously eliminated contestants in "The Bitchin' Race", milking goats in the recap.
Ad blocker interference detected!
Wikia is a free-to-use site that makes money from advertising. We have a modified experience for viewers using ad blockers

Wikia is not accessible if you've made further modifications. Remove the custom ad blocker rule(s) and the page will load as expected.