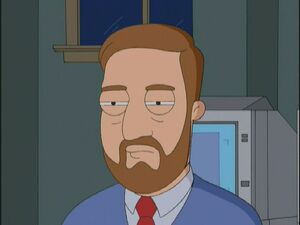 Marvin is a patron at the Langley Public Library in "Not Particularly Desperate Housewives". He becomes slightly angry with Francine Smith when she makes too much noise finding out about the murder of Anne Flemming while he is trying to vote girls 'Hot or Not' on the library's computer.
Marvin makes numerous other guest appearances, including at Francine's writing awards in "Manhattan Magical Murder Mystery Tour" and at the doctor's office in "Seizures Suit Stanny".
He attends the town council meeting regarding the new football arena in "Roots" and can be seen walking through Langley Commons in "The Dentist's Wife".
Marvin is at the Langley Falls Shopping Mall in "Whole Slotta Love".
Marvin is voiced by Mike Barker.
Ad blocker interference detected!
Wikia is a free-to-use site that makes money from advertising. We have a modified experience for viewers using ad blockers

Wikia is not accessible if you've made further modifications. Remove the custom ad blocker rule(s) and the page will load as expected.