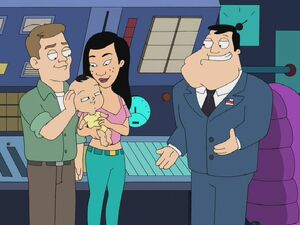 Matthew Paige "Matt" Damon is an American actor, screenwriter, and philanthropist whose career was launched following the success of the film Good Will Hunting (1997), from a screenplay he co-wrote with friend Ben Affleck. The pair won the Academy Award for Best Original Screenplay and the Golden Globe Award for Best Screenplay for their work and Damon garnered multiple Best Actor nominations, including the Academy Award, for his lead performance in the film.
Damon has since starred in commercially successful films such as Saving Private Ryan (1998), the Ocean's trilogy, and the Bourne series, while also gaining critical acclaim for his performances in dramas such as Syriana (2005), The Good Shepherd (2006), and The Departed (2006). He garnered a Golden Globe nomination for portraying the title character in the The Talented Mr. Ripley (1999) and was nominated for an Academy Award as a supporting actor in Invictus (2009).
Matt Damon appears with Lucy Liu as celebrities that adopt babies in "Tearjerker".
Ad blocker interference detected!
Wikia is a free-to-use site that makes money from advertising. We have a modified experience for viewers using ad blockers

Wikia is not accessible if you've made further modifications. Remove the custom ad blocker rule(s) and the page will load as expected.