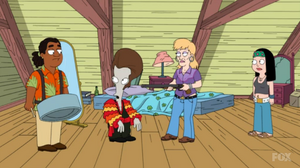 Maurice is Roger's kettle drum player when he tries to adopt a new persona of "Calypso Banana Puffy-Sleeves" in "Gorillas in the Mist" when he ditches his wife Naydern when he finds out she doesn't have an espresso machine. Naydern tracks him down and drags him back to her home. As he is being dragged away, Roger apologizes to Marice for making him come over.
Ad blocker interference detected!
Wikia is a free-to-use site that makes money from advertising. We have a modified experience for viewers using ad blockers

Wikia is not accessible if you've made further modifications. Remove the custom ad blocker rule(s) and the page will load as expected.