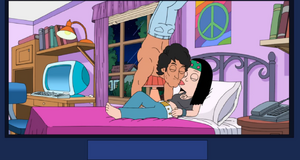 Mauricio is Hayley's "boy-toy" in "Poltergasm".
When Francine begins being attracted to Hayley and Mauricio's sexual activities, her Poltergasm from her own sexual frustration grabs him from Hayley's closet. Hayley, Steve and Roger try to pull him free but he is pulled back in the closet. After Stan finally pleasured Francine to a real orgasm and the house back to normal, Mauricio was spit out, landing on his neck in a broken, bleeding heap.
Mauricio is voiced by Diego Luna
Ad blocker interference detected!
Wikia is a free-to-use site that makes money from advertising. We have a modified experience for viewers using ad blockers

Wikia is not accessible if you've made further modifications. Remove the custom ad blocker rule(s) and the page will load as expected.