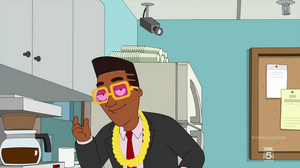 Stiles, also known as McGee, is the new intern at the CIA who leads Jackson, Dick and Sanders through the musical number "Rubbernecking" when they try to explain to Stan about how to check out girls without getting caught by Francine in "Rubberneckers". During the number, he identifies himself as "McGee."
He eats at Fro-YO-MAMA with Dick, Jackson, Stan, and Jeff Fischer in "Holy Shit, Jeff's Back!" and is present when the CIA tries to arrest surfers in "Stan Smith as Keanu Reeves as Stanny Utah in Point Breakers".
He is one of the savage survivors in "The Two Hundred".
During the listing of possible surprise owners of the mineral rights under the Smith home in "Mine Struggle", his name is given as "Stiles." Stan repeats the Stiles name in "Gifted Me Liberty".
Appearances
Ad blocker interference detected!
Wikia is a free-to-use site that makes money from advertising. We have a modified experience for viewers using ad blockers

Wikia is not accessible if you've made further modifications. Remove the custom ad blocker rule(s) and the page will load as expected.