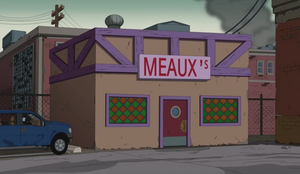 Meaux's, pronounced as 'Moe's', is a bar in Despairtown owned by Meaux in "Camp Campawanda".
When Steve is kicked out of the camp for an attempted panty raid prank, he takes refuge in Meaux's. Requesting a Sprite, he finds the locals hate both the camp and Sprite and is given Mountain Dew instead. He joins in with the locals in his own hatred of the camp and plots with them to get even in a panty raid. Once inside of the camp, his prank is rejected in favor of destroying the camp.
Ad blocker interference detected!
Wikia is a free-to-use site that makes money from advertising. We have a modified experience for viewers using ad blockers

Wikia is not accessible if you've made further modifications. Remove the custom ad blocker rule(s) and the page will load as expected.