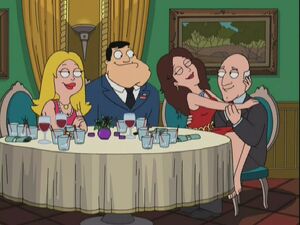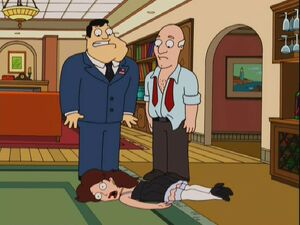 Melinda was a friend of Francine 's. Francine allows Stan to set up a date with Bullock and Melinda in "Four Little Words".
Stan and Francine set up the double-date at Chez Monieux. At first Melinda is very disappointed in seeing how old Bullock is but, after many drinks, becomes attracted to him.
When they go back to his place, Melinda slips out to put on a negligee. When she sneaks up to snuggle with Bullock, his highly trained CIA reflexes make him think he's being attacked and he breaks her neck. Bullock orders Stan to dispose of the body. At home, Francine is very hung over and can only half-remember the events of the previous night wants to talk to Melinda about the date, but Stan claims that the two women had a big fight and Melinda does not want to talk to her.
Francine nevertheless tries to meet Melinda, but cannot find her at home. When she says that she plans to contact the police if Melinda does not turn up, Bullock says that he will "get her off the trail." When Stan finds out that means trying to assassinate her, Stan concocts a plan by having the two of them go to the Cloak & Stagger to meet her. He then drugs Francine's drink and arranges it so that, when she wakes up the next morning, she is holding a bloody knife near Melinda's dead body.
Francine, horrified that she killed Melinda, at first wants to turn herself into the police; Stan dissuades her, and disposes of Melinda's body in a woodchipper. Horrified at the events, Francine leaves and moves to India explaining that to amend for her crime she feels the need to help others and find redemption. Stan eventually comes clean, leaving Francine very angry with him.
Melinda is voiced by Ally Walker.