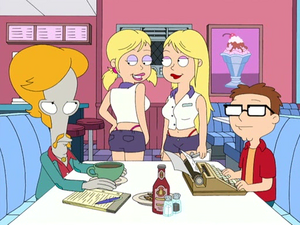 Sandy is a girl with pigtails who works with her friend Mia at a diner where Roger and Steve attempt to write a porno movie in "Stan Time". While Roger and Steve struggle to come up with a realistic setting for the movie, they become completely oblivious to the sexual antics of the girls while they flirt with them and then struggle to fix the diner's air conditioning.
They have a crowd scene cameo in "100 A.D.".
Mia is voiced by Paget Brewster. Sandy is voiced by Rhea Seehorn.
Ad blocker interference detected!
Wikia is a free-to-use site that makes money from advertising. We have a modified experience for viewers using ad blockers

Wikia is not accessible if you've made further modifications. Remove the custom ad blocker rule(s) and the page will load as expected.