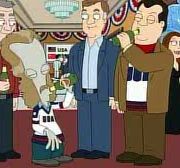 Michael "Ritz" Eruzione is an Italian-American former ice hockey player who was the captain of the 1980 Winter Olympics United States national team that defeated the Soviet Union in the famous "Miracle on Ice game".
Roger takes Stan to a reunion of the 1980 US Olympic Hockey Team in "The Return of the Bling" when Roger reveals he was part of the team in his persona of Chex LeMeneux. Stan refuses to accept it until Roger takes him to the team reunion and Stan gets to see his team heroes Jim Craig, Mark Johnson and Michael Eruzione among others. Michael appears and provides his own voice in the episode.
Ad blocker interference detected!
Wikia is a free-to-use site that makes money from advertising. We have a modified experience for viewers using ad blockers

Wikia is not accessible if you've made further modifications. Remove the custom ad blocker rule(s) and the page will load as expected.