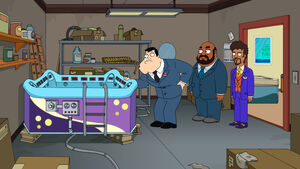 Michael Anthony Peña (born January 13, 1976) is an American film and television actor, best known for his prominent roles in Crash, Observe and Report, 30 Minutes or Less, End of Watch and Oliver Stone's World Trade Center. He also appeared in the Nickelback music video for their song "Savin' Me".
Peña provides the voice of Marguerite.
Ad blocker interference detected!
Wikia is a free-to-use site that makes money from advertising. We have a modified experience for viewers using ad blockers

Wikia is not accessible if you've made further modifications. Remove the custom ad blocker rule(s) and the page will load as expected.