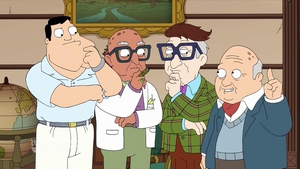 Mickey Rooney (September 23, 1920 - April 6, 2014) was an American film actor and entertainer whose film, television, and stage appearances span nearly his entire lifetime. During his career he has won multiple awards, including an Academy Award, a Golden Globe and an Emmy Award. Best known for his work as the Andy Hardy character, Rooney has had one of the longest careers of any actor.
In one of his final roles, Mickey provides the voice of one of the producers of Marble Trouble in "A Star Is Reborn".
Ad blocker interference detected!
Wikia is a free-to-use site that makes money from advertising. We have a modified experience for viewers using ad blockers

Wikia is not accessible if you've made further modifications. Remove the custom ad blocker rule(s) and the page will load as expected.