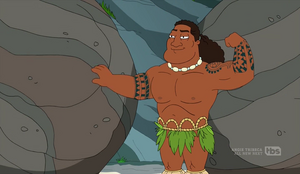 Mikeah is the local village boulder-rolling champion in "Bazooka Steve".
When Steve convinces the star quarterback of The Langley Falls Bazooka Sharks to quit the team in the middle of a championship game, the entire town pursues him until he ships himself off to a tropical island. There, he is accepted but finds that everyone must work, and is employed weaving baskets.
When a rumbling announces that a volcano is erupting, all of the villagers hurry outside to watch. Although Steve expects the worst, it is explained that it starts a competition between villages to roll boulders into the volcano. Mikeah is the local hero and starts off strong, dodging a stream of lava along the way. He suffers a leg injury when he is run over by a competitor, but continues after shoving him back. Dragging his injured leg, he makes it to the top first and wins as Steve earns a new appreciation for sports breaking up the tedium of everyone's lives.
Ad blocker interference detected!
Wikia is a free-to-use site that makes money from advertising. We have a modified experience for viewers using ad blockers

Wikia is not accessible if you've made further modifications. Remove the custom ad blocker rule(s) and the page will load as expected.