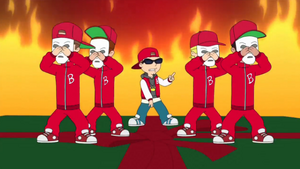 Krampus is a mythical creature whom according to legend, accompanies Saint Nicholas during the Christmas season, warning and punishing bad children, in contrast to St. Nicholas, who gives gifts to good children. When the Krampus finds a particularly naughty child, it stuffs the child in its sack and carries the frightened child away to its lair. The title also includes a reference to "minstrel show", an American entertainment consisting of comic skits, variety acts, dancing, and music, performed by people in blackface, both back and white. The title has also been interpreted as a pun on "menstral cramps."[1]
During "Bad, Bad, Bad, Bad Boy", the backup singers wear white masks in reference to the dance team Jabbawockeez.
The living household items and Jack Smith's transformation to Krampus parody Disney's Beauty and the Beast.
Francine "swears" by using the trigger phrase "By the powers of Greyskull" from He-Man.
Ad blocker interference detected!
Wikia is a free-to-use site that makes money from advertising. We have a modified experience for viewers using ad blockers

Wikia is not accessible if you've made further modifications. Remove the custom ad blocker rule(s) and the page will load as expected.