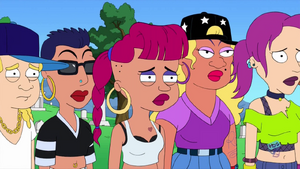 Melissa Arnette Elliott (born July 1st, 1971) is an American rapper, singer, songwriter, and record producer, winning five Grammys and selling over 30 million records in the United States.
Missy provides the voice of YoYo in "Stan-Dan Deliver".
Ad blocker interference detected!
Wikia is a free-to-use site that makes money from advertising. We have a modified experience for viewers using ad blockers

Wikia is not accessible if you've made further modifications. Remove the custom ad blocker rule(s) and the page will load as expected.