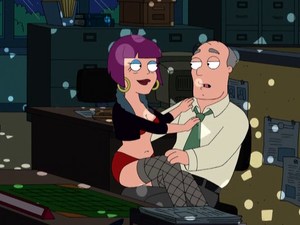 Misty is a hooker that Dick insults by refusing to pay for sex in "Stan's Night Out". For revenge, she steals his car which has three people locked in the truck which Stan had been trying to help throughout the evening and sells it to a crime lord, Fernando Jaramillo.
Misty is also seen at Roger's Place in "Roger Passes the Bar" and working at "The Whore Depot" in Carson City, Nevada in "Kiss Kiss, Cam Cam".
Misty is voiced by Suzanne Cryer.
Ad blocker interference detected!
Wikia is a free-to-use site that makes money from advertising. We have a modified experience for viewers using ad blockers

Wikia is not accessible if you've made further modifications. Remove the custom ad blocker rule(s) and the page will load as expected.